In-app advertisement (banner, interstitial, video…) is one important way to monetize your game app. The biggest ad network in Japan, nend, announced their data, which gives us a great chance to see how people are doing in Japan. Please notice that the data here include all categories of mobile apps.
The total average revenue from in-app advertisement on nend platform is 326 euros/month (excluding all apps earned less than 10 euros per month, exchange rate 1 euro = 135 yen) in 2015 (detailed period unknown). However, most apps earn less than 40 euros/month by in-app advertisement. "High revenue apps" (more than 740 euros/month) are about 5%. By the way, 65% of in-app advertisement revenue comes from iOS and 35% is from Android.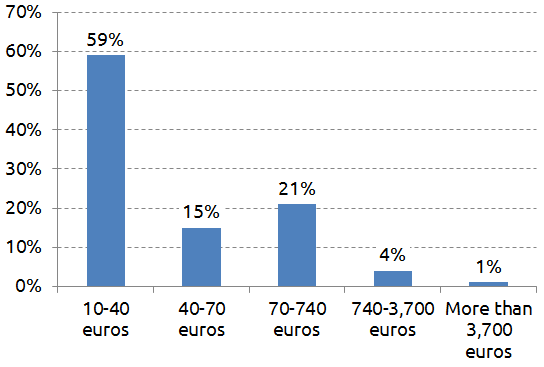 From another point of view by comparing the data of 2014 and 2015, how many apps maintained their in-app advertisement revenue? For those who earned averagely more than 740 euros/month in 2014, 30% of them are still earning more than 740 euros/month in 2015. However, a big portion of these long-life apps are not games. Most of them belong to utility category.
nend also pointed out 3 features by analyzing the top 100 developers in revenue (only from in-app advertisement). First, more than 90% of these developers launched their apps both on iOS and Android. Second, 40% of these developers launched less than 10 apps so far, which may potentially indicate that the quality is more important than quantity. Third, most personal developers listed in the top 100 were developing game apps. However, the second big category of apps produced by top 100 developers was utility app.
PR
So far, advertisement has been considered different from the core content of an app. The trend now and the future is to make advertisement become part of app content. Native ads could match very well to game app where good characters exist (to show an advertisement as a message from the game character with an interesting way/style), and watching a video could be designed and integrated into game mechanism.
Since 94% of revenue from mobile games are free-to-play in Japan, in-app advertisement and in-app purchase have been the major ways to monetize mobile games. Now more and more game developers are trying to combine both ways to maximize their profitability, and the balance between these two ways may need developers to spend more time to design in development and spend more time to try and adjust in the market as well.
Source: http://appmarketinglabo.net/nend2015/
PR